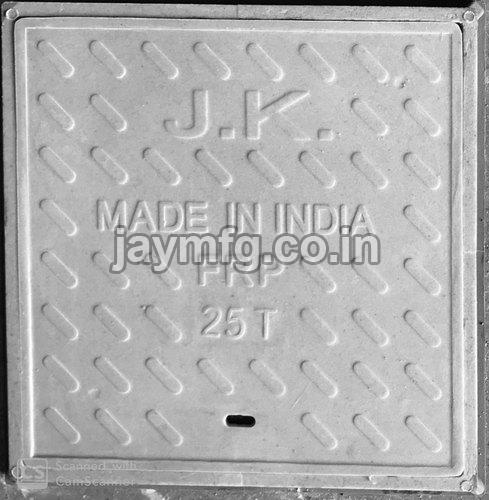 An underground unit constructed to provide the utilities like a sewer system or the drainage is called a manhole or an inspection area. So, with the help of these, it becomes easy to inspect the underground utilities, modify them, clean and also maintain them.
What is a Manhole Cover?
The manhole cover is a kind of special plug that helps in the protection of the manhole from any unauthorized reach. There can be various shapes and designs of the cover used for manholes like it can be circular in shape, rectangular pr a square-shaped. Similarly, the material that is used for making the cover is a composite material, precast concrete, or any type of glass-reinforced plastic material.
The provision is made so that the manhole can be accessed easily and it is done through the steps, which means steps are created to get the access. If the manhole is not deep that is around less than one meter then a step ladder is built and constructed.
What Is the Purpose of a Rectangular FRP Manhole Cover?
1. If there is any obstruction or sewage waste in the sewage line then it is removed by performing inspection, cleaning, or removal.
2. Manhole plays an important role in joining or changing the direction or changing the alignment of the sewers.
3. The manholes consist of perforated covers which help in the escape of foul gases. So, it is a good source of ventilation for the underground sewage system.
4. Through these sewer lines the FRP manhole covers can be laid down by professionals.
What are the Different Types of Manhole Covers?
There are mainly three types of manholes covers:
1. Shallow manhole – This is the type of manhole with a depth ranging from seventy-five to ninety cm. these types of manholes are constructed where the amount of traffic is less or qat the start of branch sewer. This is usually accessed with a cover that is light generally called an inspection chamber.
2. Normal manhole – These are the type of manholes that are generally provided with heavy covers that usually takes the shape of the cover. The normal manhole is normally one fifty cm deep.
3. Deep manhole – These types of manholes are generally constructed at a depth of more than one fifty cm. the cover for this type of deep manhole is usually very heavy.
Features to Consider While Choosing Covers for Manholes
• Longevity: It is always recommended to invest in manhole covers that are sturdy and can withstand tear and wear. It is better to purchase it from a reputed brand that can guarantee 30 years lifespan of manhole covers.
• Light in Weight: It is better to buy manhole covers that are user friendly and are light in weight.
• Top Grade Quality Material: It is better to invest in top-grade quality manhole covers that is made of high-quality resin systems that can withstand toxins and chemicals and have greater strength compared to the ratio of weight.
It is better to thoroughly research and buy the manhole covers from a reputed rectangular FRP manhole cover manufacturer.