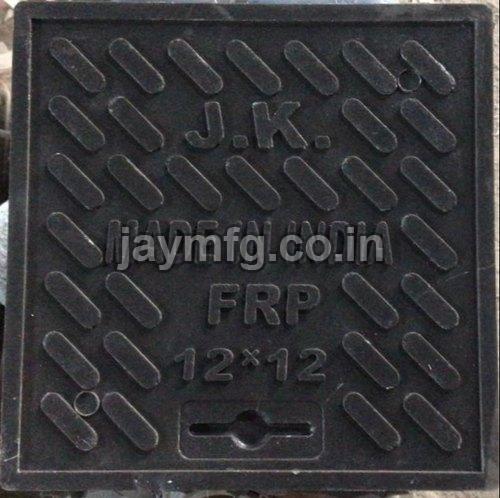 Square FRP Manhole Cover is available in different sizes. They have special load-bearing abilities and sizes. First, consider your needs and accordingly choose the product.
A manhole cover which is also known as a maintenance whole cover is called a removable plate forming the lid over to open up the manhole. The opening remains large enough for an individual to move through that is used as a point of access for an underground pipe or vault. Square FRP Manhole Cover is superior quality and lightweight to the old cast iron, RCC cover, and ductile iron. The word FRP is referred to Fibre Reinforced Plastic. The manufactures offer the covers in different sizes having great load-bearing capacity from 1.5 to 40 tons. These products are well tested for the pedestrian and vehicular areas.
FRP or Fiber Reinforced Plastic is considered one of the finest composite materials utilized for manufacturing manhole covers. It has different factors which include unsaturated polyester resin, quartz, glass fiber, and two special kinds of additives. However, the technique of manufacturing is extremely difficult as compared to the SMC or BMC covers.
The FRP manhole covers have a good face, are wear-resistant, and have a tremendously good ability to load. This is the prime reason; those that are made with the FRP composite material have a much longer duration than BMC and SMC.
Manholes are a significant construction constituent that allows you different kinds of actions. They make sure for the maintenance workers to access the subversive piping and the lines of the telecom that have been formed under the roads. Additionally, they are even having a point to access for meters that calculate the liquid flow in the sewer lines.
However, the manholes should cover so that a pedestrian crossing the road or walking on the sidewalk might not fall into it accidentally. These manhole covers are also essential as they assist the cars to run smoothly on the roads without any sort of fear that their tires get stuck in.
If you are willing to purchase square FRP manhole covers then it is better to look into the special internet resource. There are lots of manufacturers and suppliers available for you and you can find the best plastic manhole covers at the best cost. The best quality manhole covers are simple to fix up. They are quite lightweight and the buyer will face no difficulty at all in fixing them.
There is no professional hand in doing the things and quite convenient and simple.
Before FRP came into the market, the covers were manufactured from concrete, steel fiber cast iron, ductile iron, reinforced concrete, or PVC materials, but this stuff has its negative points such as low load-carrying effectiveness.
FRP is known as the finest alternate stuff for manhole covers as it has a life span for a longer time. They also can endure heavy loads. The costly metals changed with highly efficient FRP manhole covers.